Inground and above ground pools are a great way to relax, entertain, exercise, and cool down on a hot summer's day. The hardscape or decking around a pool increases the potential for your pool's use and helps keep it clean. There are many pool decking options available, so if you're trying to decide which is the best for your pool, we're here to help!
Concrete offers a smooth, solid decking option for an inground pool. The concrete can be textured to be less slippery, colored to blend, or used as a base for tile, pavers, brick, stone, or rubber. Pressure treated or cedar are excellent options for above ground pool decking. Both are durable and will provide 15 to 30 years of enjoyment with minimal maintenance.
In this article, we'll discuss different pool decking options, their cost, and key pros and cons. We'll explain what the best wood is for a pool deck and what to consider when choosing a pool deck material. We'll also identify the best decking option for above ground and inground pools. Our aim is to provide you with the information you need to make the best choice for your project.
Best Pool Decking Options
Pool decks serve a multitude of purposes. They are a place to relax and enjoy the sun, a conversation, a meal, your favorite beverage, or a book. It helps keep grass and dirt out of the pool, which can be a real time and cost saver on pool maintenance. The deck also often provides access to the pool, so it gets walked on by bare feet and often gets wet from splashes and dripping bodies.
The material you choose for the decking needs to be able to withstand the pool chemicals, repeatedly getting wet and drying in the sun, plus the residue from sun-lotions. It needs to be cool on the feet, minimize slippage, and be easy to maintain so you can maximize your outdoor enjoyment.
Whether you do the work yourself or hire a professional, select the material that best suits your aesthetics, vision, and budget. Below, we discuss different pool decking materials to help with your decision.
Wood
Wood is a common decking material and can be used for above and inground pools. It is one of the easier DIY materials and can be framed for round, oval, rectangular, or square pools.
The framework is typically pressure treated lumber, but the decking can be a variety of wood species, colors, and widths to suit any design or budget. Wood decking can last 20 to 30 years or more if properly maintained.
The more common wood species are cedar, mahogany, teak, and oak, but pine and other kinds are also used. Wood also provides a natural look that has a wide aesthetic appeal but requires yearly maintenance. It can be sealed, stained, or painted to protect it from the elements, pool chemicals, and even to make it less slippery.
Cost: $3 to $5 a square foot for pine or cedar, $10 to $20 or more for teak, mahogany, and more exotic woods; double that if professionally done.
Pros:

Wide variety of species and dimensions
Abundant structural and visual design options
Natural looking and aesthetically pleasing
DIY friendly and can last 20 to 30 years or more
Cons:
Needs regular maintenance to prevent rot, fungal growth, and splintering
Requires fasteners resistant to pool chemicals
Composite Decking
Composite decking, like solid wood, typically rests on a framework of pressure treated wood and is a common DIY option. It contains a mixture of plastic and wood and often has a protective plastic coating on three or four sides. It also may require less maintenance and will last between 10 and 25 years or more depending on the product quality.
Composite decking is available in three or four quality lines depending on the manufacturer. The more expensive decking offers greater color and width options and deeper grain texturing, which can help reduce slippage.
The decking does require more frequent cleaning to remove dust and dirt to prevent mold and mildew growth, but shouldn't require staining or painting. However, some finishes may be damaged by pool chemicals, so ensure they are rated for pool use.
Cost: $11 to $22+ per square foot if you DIY.
Pros:

A good selection of natural colors and widths
An almost endless choice of decking design layouts
Resistant to insects
Won't splinter
Cons:
Slippery when wet
Retains more heat, so hotter on bare skin
Concrete
Concrete decking can range from a natural light gray to a selection of colors and tints to complement most locations. It provides a cool, solid, durable, permanent surface upon which to sun, visit, or relax. It is more commonly used for inground pools, but can also be used to surround all or part of an above ground one. Although often poured and finished by professionals, it can be placed and finished by a skilled DIYer.
A smooth concrete finish is very slippery when wet, so concrete typically has a broomed or brushed finish to prevent slipping. It could also be stamped or impressed with a variety of decorative options, or textured.
The different finishes make it more slip resistant, but add to the cost, and may not be comfortable on feet, knees, or exposed skin. Concrete does require seasonal cleaning and some maintenance to prevent staining or cracking, but can last for 50+ years.
Cost: Expect to pay a professional $5 to $10 a square foot for smooth, brushed, broomed, or textured, and add $1 to $1.50 per square foot for color. Stamped concrete ranges from $10 to $20 depending on complexity and coloring.
Pros:

Can be formed, poured, colored, and finished in any shape
Easy to maintain
Long-lasting and durable
Cool on feet and exposed skin
Cons:

Slippery if smoothly finished
Can crack or settle over time
Pavers
Pavers are manufactured in a variety of shapes, sizes, textures, patterns, and colors. They are made of concrete and designed to look like bricks, cobblestones, tiles, stone, marble, or other finishes. Tiles may also be interlocking to reduce shifting and should have a border to prevent movement. They are DIY friendly but require proper ground preparation, skill, and time to install and cut.
The dimensions of the pavers and the pattern they are laid in to form the deck can create a busy look. So, consider the effect of color, size, and texture at the planning stage, prior to purchasing anything.
Pavers can be cut to fit around pool edges and are easily replaced if damaged. Larger pavers are easier to level and provide a more even surface for furniture than smaller pieces, so mixing sizes and patterns to create different 'rooms' is a suggestion.
Cost: $2 to $10 a square foot and double that if professionally installed.
Pros:

DIY friendly
Textured so more slip resistant
Water drains off easily
Easily repaired
Cons:

Need to be sealed to prevent fading
Can sink or shift over time and weeds grow in cracks
Brick
Clay paving bricks offer a wide range of color and design options. They differ from wall bricks in that they don't have holes in them and commonly can be oriented in any direction. Brick pavers are very durable and are installed on a similar base to concrete pavers, so are DIY friendly.
Bricks create a traditional or classic look and can be used to create a multitude of geometric shapes and designs. Bricks have been used for millennia, so have a proven record. Easy to maintain and replace, they can be used in conjunction with other materials too. Their texture makes them slip-resistant but darker colors can be hot on bare feet.
Cost: $0.50 to $5 a brick and between $2 and $10 a square foot to professionally install depending on pattern design.
Pros:

DIY potential
Easy to maintain and durable
Multitude of colors
Durable
Cons:

Time-consuming and requires maintenance and weeding
Susceptible to moss growth in shaded or damp areas
Natural Stone
Natural stone pavers or flagstones offer a wide range of naturally occurring colors. Available in different sizes and shapes, the stones can be cut to fit as needed. Stone often has a nonslip texture unless polished or glazed. Natural pavers commonly are made of granite, limestone, sandstone, travertine, quartzite, or porphyry.
If looking for a natural look with a versatility of color and texture, natural stone is the way to go. No two pavers are identical in coloring or vein pattern. Stone resists fading, but can chip or crack, and can absorb moisture unless sealed. Lighter tones are cooler on bare feet too.
Cost: $5 to $30 a square foot, less expensive if sourced locally. Add $3 to $20 a square foot if installed professionally.
Pros:

DIY possible
A rich, upscale look
Highly durable and long-lasting
Wide range of colors, shapes, and textures
Cons:

Expensive
Can crack, chip, or flake due to frost
Ceramic Tiles
Ceramic tile is an ideal way to upgrade or up-style a concrete deck. Tile offers a variety of colors, shapes, sizes, and finishes, but requires a solid base. If using tile, the climate is an important consideration, so select a material that will withstand whatever Mother Nature throws at your area.
Glazed tile is very slippery, while unglazed terracotta or porcelain tile that is frost resistant offers greater slip resistance. Ceramic tiles can have glazed finishes that are slip resistant too, though. The pattern design and color options make ceramic tiles a common choice for inground pool deck finishes and have a long, durable history of use.
Cost: $1 to $30 a square foot with murals and mosaics running $50 to $100 or more a square foot. Professional installation typically adds $4 to $15 a square foot but can be more for original artwork.
Pros:

Aesthetically pleasing
Wide variety of textures and color options
Unlimited design possibilities
Cool on bare feet
Cons:

Not DIY friendly
Glazed tile is very slippery
Rubber Surfacing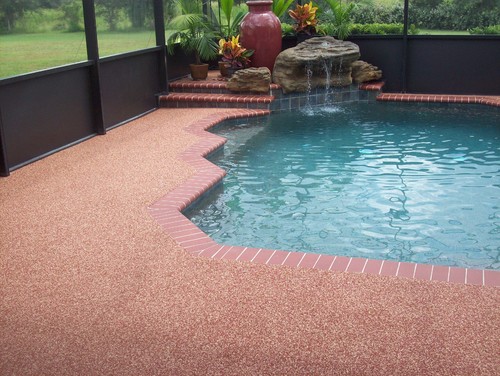 A variety of rubberized materials for pool decks offer a no-slip and water-permeable spongy surface. Rubber pool deck surfacing typically means spray, roll-on, or trowel-applied synthetic rubber that offers a solid yet flexible finish for existing or new decks. Rubber decking commonly has a smooth surface with a granular texture, but the color selection is limited compared to some materials.
Liquid rubber is usually applied to a new or existing concrete base. It can incorporate different color patterns or shapes in the design to personalize and stylize the deck space and to make it much more aesthetically pleasing. A very durable and long-lasting material, it can be used for small or large decks.
Cost: Professional application is $3 to $10 or more per square foot depending on design and customization on existing concrete deck.
Pros:

Seamless slip resistant cool surface
Spongy so impact absorbing
Easy to clean and maintain
Long-lasting
Cons:

Not DIY friendly
Lifespan affected by climate
Artificial Grass
Artificial turf provides the look of grass without the need to mow, trim, water, fertilize, apply pesticides, or rake. Plus, it means no grass clippings tracked or blown into the pool! Artificial turf is a permeable, no-slip, synthetic fiber attached to a rubber backing and is UV resistant. It produces no pollen, so is hypoallergenic, as well as antimicrobial. An added bonus is that artificial grass doesn't attract ticks, fleas, mosquitos, snakes, frogs, or rodents.
The material is easy to install and requires limited DIY skills, but for a smooth, seamless look that is guaranteed, hire a professional. Artificial grass can be laid over existing decking or on the ground with some prep work. Compacted sand covered with a shock-pad or recommended underlayment keeps weeds out and provides level support. With minimal maintenance, artificial turf will last 10 to 15 years or more.
Cost: Expect to pay between $5 and $20 or more a square foot depending on backing and whether DIY or professionally installed.
Pros:

Low maintenance
Slip-resistant
Looks and feels like grass
Durable and long-lasting
Cons:

Gets hot in direct sunlight
Off-gassing especially on hot days
What Is the Best Wood for a Pool Deck?
When selecting the best wood for a pool deck, it should be durable, mold, mildew, rot, and insect resistant, low maintenance, and not break the budget. The two most common wood species are pine and cedar.
Pine is the least expensive and doesn't absorb heat, but requires more maintenance unless it is pressure treated. Cedar is naturally resistant to insects, weathering, and decay, looks better than pine, and is more durable but also more expensive.
Teak and mahogany are more exotic choices for pool decking, and thus more expensive. Teak is more durable than pine or cedar, has a richer look, is naturally resistant to insects, and is low maintenance.
Mahogany is the most durable and virtually maintenance-free, but very expensive. If doing only a small deck surface, consider teak or mahogany, for larger deck areas, cedar or pressure treated pine work great.
What to Consider When Choosing Pool Decking Material
Choosing the best material for your pool decking can be difficult. It's like selecting materials for a large, high-use, interior room – what will aesthetically look best, is most user-friendly, requires the least maintenance, and is slip, heat, mold, and mildew resistant. Plus, do you have to remortgage the house to afford it?
Slip Resistance
The more slip resistant the decking, the better. Pool decks get wet, and those enjoying the water will also be wet. Slips can be painful, and telling children of any age to walk isn't relaxing. So, select a low or no slip material, but not one so abrasive or coarse it hurts the feet.
Mold and Mildew Resistance
A pool deck is often seen as a place to relax, so you don't want to be down on your hands and knees scrubbing mold and mildew. Select a material resistant to mold and mildew, algae, and chemical marking. Otherwise, much of your relaxation time will be spent on cleaning and maintenance.
Heat-Reflective
Most people like to go barefoot around the pool, but if the surface absorbs or reflects the heat on a hot day, it can make doing so painful. Select a material that stays cooler on hot days. It will make skin contact more comfortable and often reduces reflective sunburns too.
Maintenance
A pool deck is a place to relax, entertain, and restore your mental equilibrium. So, if you have to spend several hours every weekend cleaning and maintaining the deck, it will quickly become anything but that. Select a material that is durable and long-lasting, and won't require constant upkeep.
Cost
A pool is a costly investment, so look for a decking material that will add enjoyment while being safe and comfortable and not blow the budget. Expect to pay between $2 to $30 or more a square foot. DIY can reduce the cost by 50% or more, but requires some skills and time, plus sweat equity. Professionals are more expensive but usually provide a warranty and know what they are doing, so the job is done more quickly.
What Is the Best Decking for an Inground Pool?
The best material for your inground pool deck is what suits your desired look and fits your budget. Much depends on the size of the deck too – a small sitting area or a full wrap-around.
Poured concrete is the most common decking for inground pools. It is cost-effective, durable, will last for decades, comes in a variety of colors, and can be lightly textured to prevent slippage. Plus, if you get tired of its look, it can become the base for tile, rubber, bricks, pavers, stone, wood, or even artificial turf. However, it isn't as DIY friendly as some other decking materials.
Pool Decking for Above Ground Pool
Above ground pools can have ground-level decking for relaxation. However, most pool owners prefer to have a freestanding raised platform for easier access to the pool and upon which to relax.
Wood, composite, or PVC are common choices for raised pool deck surfaces, and are all DIY friendly. Each has its pros and cons, with the greatest difference being cost. Pressure treated wood is easier to cut and fit and will last as long as most composite materials, plus it's much easier on the budget.
Cedar and other exotic wood species work as well, but again, they're not as budget-friendly.