A friend of mine wanted to add a deck to one of his rental properties and wanted composite decking, so he didn't have to return to maintain it regularly. But he was overwhelmed by all the products out there. The choice eventually was Fiberon versus Trex decking – what was the difference, and which was better?
Trex is the brand people are probably the most familiar with, and they've been in the composite decking game longer than just about anyone. However, Fiberon has positioned itself as a huge player, with tons of products and colors available with a massive warranty to boot.
But which is better? We'll attempt to definitively convey which product is better by comparing all the key attributes of a composite deck board. While the products offered by both are still somewhat new, we can still evaluate their viability and suitability for your next deck project.
What is Trex Decking?
Trex was the original composite decking company and its founder invented composite decking nearly 40 years ago. Today there are many, many composite decking manufacturers, but Trex was the first. The idea originated as a solution to the problem of waste – particularly sawdust and plastics that were clogging landfills.
The founder of Trex came up with the idea of combining used plastic bags with sawdust and heating it to several hundred degrees. The product was a solid, weatherproof piece of composite lumber. Each 16' board of the original Trex product used around 2300 plastic bags and lots of sawdust. Other plastics were used too, but plastic bags are one of the main waste polymers used in Trex composites.
Trex composite boards are not structural, meaning you can't use Trex boards to frame your house or even a shed. But they make great platforms – patios, raised pathways, and, of course, decks. They require next to no maintenance and resist weather extremely well, as they are made of lots of plastic.
While Trex has branched out to include pergolas, lighting, railings, and other accessories, their main product is still composite deck boards. They have 3 main deck board lines varying in price, with each featuring between 5 to 8 color options and textures, all with a 25-year warranty. While all their composite boards are capped, they still do not offer any completely synthetic decking, such as PVC.
Pros and Cons of Trex Decking
There are many things to like about Trex decking, as it's hard to beat a deck board that requires no maintenance. Below we'll take a look at what's good and not so good about Trex decking.
Pros
Virtually maintenance-free compared to wood decks
Many colors to choose from
Offer 2" thick boards as well as 1"
25-year warranty
Other accessories offered, like railings, to match your decking
Available at any big box home renovation store
Cons
Expensive – $40 for a 16' board
Full warranty only 10 years, reduces to 10% of full replacement cost at year 25
Not as many color options as some competitors
Do not offer a fully synthetic option
What is Fiberon Decking
Fiberon is not as old as Trex, but after 25 years in existence, it has made a name for itself by creating ultra-durable composite and PVC decking that will not stain or fade. They offer a wider array of decking options, such as PVC and composites, but manufacture their product in much the same way as Trex – using recycled plastic and wood waste to create a virtually indestructible decking board.
One of Fiberon's main contributions to the composite decking world was perfecting "capped" deck boards, which is a layer of plastic sheathing the composite board adding further protection. Within that plastic sheathing is wood composite – sawdust – mixed with plastic waste such as old bags and other plastic garbage that is then heated and pressed into a board. The plastic "cap" is then added afterward.
Some of Fiberon's decking – the premium varieties – comes with a 50-year limited warranty against staining and fading, which is the longest in the industry. Other offerings come with warranties ranging from 40 to 20 years. They also provide railings, lighting, and fascia boards.
Pros and Cons of Fiberon Decking
Fiberon boards versus competitors may seem similar at a glance, but a closer look reveals some differences. Let's take a quick look at what Fiberon excels at and some of its drawbacks:
Pros
50-year limited warranty on some products
Offer fully synthetic composite decking options
Many colors and styles to choose from
Extras include railings, lighting, fascia, and risers
Several fastening systems to choose from
Cons
Decking will still fade over time, albeit minimally
Expensive – a 16' premium board is over $60
Does not over a 2" thick board
Not as widely available as Trex
Fiberon vs Trex: What's the Difference?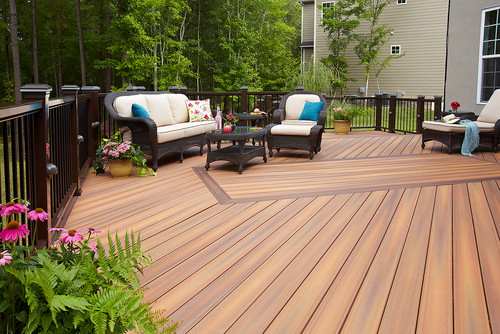 The difference between the two products first lies in the warranty, as one has a warranty double in length compared to the other. While the two products look the same, with a polymer capped composite core, they each offer different "looks" that make them unique. Let's take a closer look.
Material & Capping
Fiberon and Trex are made with recycled plastic bags and other plastics combined with sawdust and other wood waste. They are also both capped with a polymer sheathing that further protects them from the sun and weather. However, Trex only offers boards with capping on 3 sides – Fiberon's premium line "Concordia" offers 4-sided sheathing.
A 4-sided capping is great if you have a second-story deck with a living space beneath. It essentially creates an outdoor ceiling that makes the underside seem more like a living space and less like a storage space.
Both brands offer a very similar manufacturing process, relying on recyclables to create their deck boards. Fiberon's premium product lines have slightly less recycled content compared to Trex (about 2% less), but their more affordable boards are similar to Trex – about 96% recycled content.
Verdict: Fiberon
Fiberon wins for providing a 4-sided capped option. While this option only comes with their premium – expensive – option, it could have a large impact on your project. Also, since Fiberon offers a longer warranty and was the first company to warranty composite capping, it stands to reason that their composite capping is second to none.
Decking Profile Options
Both brands offer two general profile types – grooved and square edge. The grooved boards offered, from the top, still look the same as square edge boards. The difference is that they fasten to the joists differently. Once installed, the two profiles look, at a glance, to be similar. You can only tell the difference by seeing if the fasteners are hidden or the boards were face nailed.
Trex and Fiberon also offer boards that are "scalloped" on the bottom. That means they have a series of grooves on the bottom side. Presumably, this is to make the boards lighter, which also means they are cheaper. These are options found on the more economical composite decking options for both Fiberon and Trex.
One factor not yet mentioned is that you can purchase 2" thick Trex decking, whereas Fiberon only offers 1" thick boards. This added option is great for those who want an ultra-solid feeling deck, which is sometimes a complaint from composite deck owners.
Verdict: Trex
Trex wins this round for providing the added thickness option for their products. Which although not cheap, is nice to have for those looking for a more sturdy deck board. Beyond the thickness, both brands provide identical profile options with both grooved and square boards available on all options. Both also provide scalloped boards at a reduced cost for their economy lines of decking.
Types
While not technically a true composite, Fiberon does offer a full synthetic composite board made entirely from PVC. Trex does not offer a full synthetic option, as they stick to only true composites.
Fiberon's composite offerings vary slightly more than Trex, as the cheaper Fiberon composites are made from 96% recycled materials, while all Trex decking is made from 95% recycled material. Premium Fiberon decking is only 94% comprised of recyclable material, making it slightly less sustainable than Trex's products.
Verdict: Fiberon
Yes, Fiberon offers a PVC option, but since it isn't truly a composite, then that's not the reason they get the nod in this category. Instead, Fiberon is very transparent in terms of their decking lines and what each is comprised of in terms of material. Each type is differentiated not only by color and style but also by material, which isn't the case for Trex. For that reason, Fiberon wins.
Product Variety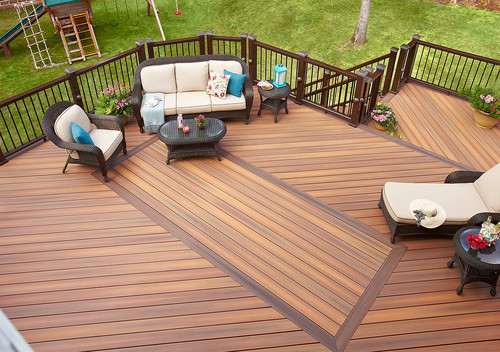 Both brands have a wide variety. The premium composite offerings from Trex (Transcend) and Fiberon (Concordia) offer a selection of 8 different colors. Both have a wood "grain" and a low gloss finish to mimic real, high-end hardwood decking.
The intermediate priced composites for both brands – Trex Select and Fiberon Sanctuary – feature 5 colors apiece. Again, as with all composites for both brands, they have a natural-appearing wood grain.
Differences occur when you compare Fiberon's economy composites against Trex's. Trex offers more colors, and the scalloped bottom of the Trex is slightly more solid than Fiberon's, making Trex's economy option a bit more desirable.
Verdict: Trex
While both offer a decent variety of styles, Trex wins this round as they have a slightly larger catalog for their economy line, which is very popular for many homeowners due to its comparable price to wood decking.
Beyond the extra color Trex offers, there is not much difference as the two competitors are very similar in terms of the number of varieties of decking they offer. The styles they offer are so similar that it would be difficult to differentiate the two as both are designed to have "grain" just like real wood.
Color Options
The colors available are extremely similar for both products. They are generally divided into two categories: brown and grey. Neither brand refers to their color groups in that way, as Trex calls their gray colors "earth tones" and Fiberon simply calls them "grays".
While color can be somewhat subjective, they both generally offer the same amount of weathered, gray colors – Fiberon and Trex have around 7 gray color options across all their composite product lines. The rest of the available colors are a type of brown. Both have two very reddish browns, two brown copper tones, and the rest are more subtle varieties of brown.
Verdict: Tie
There is no clear winner in terms of which brand offers more, or better, colors. They offer the same amount of options per tone, and they both offer two general colors: gray and brown.
Fiberon and Trex have made sure to have one type of color per product line, so their premium lines have one gray, one reddish-brown, and one copper brown tone. Both Fiberon's and Trex's intermediate and economy lines also have the same varieties of decking colors available. Therefore, neither brand has distinguished itself apart from the other.
Durability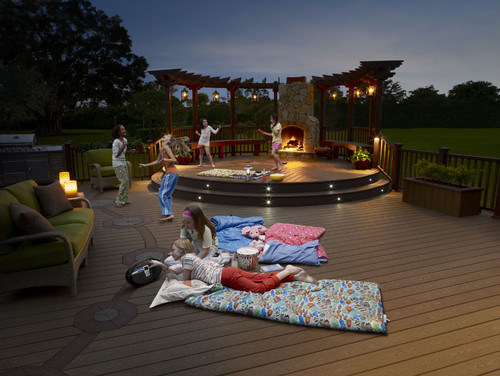 This is a category that may change over the next decade or so, but for now, it is tough to evaluate the durability of these two products since the current iterations of both Trex and Fiberon composites have simply not been around long enough to get a true sense of their durability.
Both offer capped composite boards, with Fiberon offering their premium composite boards capped on all 4 sides, whereas Trex only caps three sides of their boards.
Also, Fiberon's warranty on their premium and intermediate lines is longer than Trex. However, Trex's warranty on their economy boards is longer than Fiberon's warranty on economy composites.
Verdict: Fiberon
Yes, Trex's warranty on economy boards is longer than Fiberon's warranty on economy boards. But that is the only area where Trex seemingly outdoes Fiberon. Overall, Fiberon offers a greater quantity of options with warranties longer than Trex offers.
Secondly, Fiberon does have an optional 4-sided capped composite board, which Trex does not. All these factors slightly tilt the decision to Fiberon over Trex in terms of durability. But again, time will truly tell if Fiberon's product can outlast Trex.
Warranty
Reading the fine print of both Fiberon's and Trex's warranty is critical. You'll note that both indicate that they will not fade more than 5 Delta E units. Like most people, you probably have no idea what a "delta E" unit is. That's the scale that measures how many colors will change to the naked eye.
Neither Trex nor Fiberon will accept a warranty claim unless their boards have faded more than 5 delta E units. 1 delta E unit means a color change that is invisible to the human eye – only machines can notice that level of change. Level 3 is about the level when you can start noticing a color change – but barely. 5 is a discernible color change, but is still very, very slight.
While both brands guarantee their fade resistance to that level, it's important to note that Fiberon uses delta E Hunter units, while Trex uses delta E CIE units. They are slightly different, and Hunter units are greater – that means that Trex's warranty guaranteeing no fading within a range of 5 delta E (CIE) is more rigid and a better value to the purchaser – but only slightly.
After 10 years, both Fiberon and Trex will start to claw back portions of the recovery for warranty claims down to 10% to the last few years of the warranty term.
One major difference between Fiberon's warranty and Trex is that you cannot transfer your warranty to the next homeowner with a Fiberon product. Trex allows for one transfer. Thus, if you are buying a home with a Fiberon deck, that warranty instantly becomes null and void as soon as you take possession. A Trex deck can be transferred – albeit only one time.
Finally, Fiberon's warranty also claims that it will void the warranty if the deck becomes damaged by "atmospheric pollutants". If you live in a dense, urban area and experience discoloration, the warranty could be voided simply by that wording. Trex does not include that terminology in their warranty.
Verdict: Trex
Yes, Fiberon offers a much longer warranty than Trex, but only for their premium products. They also use different criteria than Trex to determine color fading, which is questionable when considering their warranty is somehow much longer than Trex.
Also, the fact that Fiberon does not offer a transferable warranty – even once – is unfortunate to anyone purchasing a home with a Fiberon deck. Most of us will not stay in our homes for 30 years, much less 50, so having a 50-year warranty on a Fiberon deck doesn't do you much good if you move out ten years later.
Accessories
Fiberon is a smaller company and offers only the basic deck options: composite decking, railings, fascia, lighting, and risers. Trex offers all of what Fiberon offers plus deck furniture, pergolas, fireplaces, and more.
Trex has also endeavored into the outdoor kitchen market, offering a line of cabinets, counters, and sinks to go along with the decking. They have a proprietary deck drainage system that goes underneath decks that sit above living spaces. You can also purchase Trex outdoor games (cornhole), spiral stairs, and even lattices.
The Trex railings have a greater selection, as they offer a glass, mesh, rod rail, and standard rail option. Each option is designed to fit with each of their three main lines of decking. Fiberon offers three different versions, but all are of the traditional rail type.
If you are designing a deck plus a backyard area, then Trex may be a better option simply because you can coordinate more of your outdoor space with Trex structures and furniture in addition to the decking and railings.
Verdict: Trex
Since Trex offers a much wider variety of accessories, they are the clear winner in this category. For anyone wanting to coordinate their entire deck and backyard area, Trex offers a complete line of outdoor accessories to make everything match and look good. Fiberon only offers decking and railings – for now.
Installation
Both manufacturers tout their hidden fastening systems. Trex has a proprietary hidden fastener similar to Fiberon's, which is just a rectangle that fits between the grooves of grooved boards with a screw through the middle. However, Trex offers a "glass-filled nylon" fastener, while Fiberon's is EPDM – plastic. Both offer carbon-coated screws, but only Trex offers a stainless steel option for screws.
Fiberon has partnered with Camo hidden deck fastening systems to offer other options for hidden fastening with the EDGE and EDGEX clips. While made specifically for Fiberon boards, CAMO claims these hidden fasteners also work with Trex, according to their website. Yes, Fiberon is partnered with Camo, but you can use the clips with either decking brand.
The real benefit Fiberon has over Trex is for face nailing. Fiberon has partnered with both Cor-Tex and Captor to provide color-matched screws and plugs for screwing into the face of Fiberon boards. While these fasteners also work with Trex decking, there is no guarantee that Cap-Tor screws and Cor-Tex screw plugs will match the Trex decking colors.
So if you have solid Trex decking and want to face screws, you may have a hard time finding screws that match the color of your decking, whether you want flush mount screws or screws with plugs.
Verdict: Fiberon
While Fiberon's proprietary hidden fastener might seem somewhat lightweight compared to Trex's version, Fiberon wins because you can simply use Trex hidden fasteners instead. Of course, you can use Camo fasteners on Trex, too.
Fiberon wins because of their partnerships with Captor and Cor-Tex screws. You can buy a Fiberon solid board and never have to worry about matching your screw or screw plug color because these manufacturers have matched Fiberon's composite decking colors with their screws. There are no screws that match Trex colors specifically.
Maintenance
Both require minimal maintenance. Fiberon requires a minimum of two cleans per year. Failure to do so may void the warranty. Cleaning means using mild soap, such as dish detergent, and water with a soft-bristled brush.
Trex does not recommend a specific number of cleans per year. Both allow for pressure washing, but Fiberon's only allows power washing up to 2,500 psi no closer than 12" from the surface. Trex allows up to 3,100 psi no closer than 8" from the surface, suggesting that Trex may be slightly more durable.
Both allow for the use of standard rock salt in the winter. Fiberon dictates a space no less than 6" below the deck boards, whereas Trex does not have a minimum clearance. Use of approved brighteners and mildew removers is acceptable for both Trex and Fiberon boards, as both admit staining from items such as flower pots and leaves can occur.
Verdict: Trex
Trex does not mandate a twice-a-year cleaning. They also allow for more pressure from a power washer, indicating a more sturdy deck board. For these reasons, Trex makes out to be slightly less maintenance.
Availability
Trex is more widely available than Fiberon. A quick glimpse online at the big retailers like Home Depot and Lowes indicates that both sell Fiberon and Trex. The difference lies in what they have on hand. Both stores are more likely to have Trex physically at their stores, while the Fiberon has to be ordered.
A look at two Home Depot stores, one in the Atlanta area and the other in Oregon, shows that some Trex decking boards were available for purchase at the stores. The Fiberon boards were only available for ordering. A Lowe's store in New York showed that some Trex product was available in store. Fiberon needed to be specially ordered, and some product lines were not available at all.
Verdict: Trex
Trex is a larger and older company and currently has a larger sales footprint than Fiberon. While Fiberon may eventually reach the level of availability that Trex has, it will be hard to remove Trex from big-box retailers in favor of Fiberon.
As it stands, if you want Fiberon decking, you won't be able to just walk into a store and purchase some boards – you'll have to order it at the service desk.
Price
Pricing of Fiberon is more difficult to pinpoint, as big-box retailers are hesitant to post a price if the product is currently unavailable, which many Fiberon products currently are at the time of writing. However, a 16' Trex Enhance board is around $40, while a 16' Fiberon Good Life board is close to $43. Both of these boards are from the various manufacturer's economy lines.
The premium boards are much more expensive, as a 16' Trex Transcend board is about $85, while a 16' Fiberon Concordia board is similar at $86. Both products are competitively priced, and you could potentially do a price match at a store like Lowe's or Home Depot, which offers price matching plus an additional 10% off.
Verdict: Tie
The battle over the composite deck board market benefits consumers the most, and it is highly unlikely you'll see a wide variation in pricing between Trex and Fiberon. Prices may fluctuate, but you can bet that the price of Fiberon and Trex boards will continue to remain very similar.
Sustainability
Both claim to be ultra eco-friendly, billing themselves as a more sustainable deck board than pressure-treated wood. Fiberon and Trex make a big deal about how they remove millions of plastic bags and other plastics from landfills every year, plus reduce wood waste from sawmills.
As stated before, Trex has a blanket of 95% recycled material content in all of their boards. Fiberon's economy boards have 96% recycled content in their economy board, 95% recycled content in their intermediate priced board, and 94% recycled content in their premium boards. Fiberon's premium board has slightly fewer recyclables because it is sheathed in plastic on all 4 sides, unlike Trex which only sheaths 3 sides.
Trex recycles approximately 400,000 tons of plastic bags a year, while Fiberon only recycles around 70,000. As well, 50% of Trex's railing material is also from recycled materials. They recycle about 99% percent of their wastewater, while Fiberon recycles slightly less.
Verdict: Trex
Trex is one of the biggest plastic bag recyclers in the country. They not only remove plastic bags from landfills, but also other types of plastics such as food packaging, Ziploc bags, and e-packaging. Fiberon may catch up in time, but at the moment of writing, Trex is leading in the way in sustainable composite decking.
Is Trex or Fiberon Slippery?
One of the main knocks on composite decking in years past has been that it can get quite slippery during rain or other wet weather. Neither brands test the slip resistance of their composite products. Fiberon tests their PVC decking, and it has a COF (coefficient of friction) of above .07. OSHA dictates the surface must be above .05. Fiberon only guarantees their surface will be above OSHA guidelines.
Trex also guarantees their product will be greater than OSHA slip requirements but does not give a specific resistance for their products since many other variables can factor into play, such as the individual's weight and their shoe tread, for example.
Fiberon makes a big deal about their patented perma-tread technology, which is their micro-embossed wood grain pattern atop their deck boards. Trex also has embossed wood grain patterns, but there is less texture as the emphasis is on a smooth surface.
Can Trex or Fiberon Be Painted?
Both Trex and Fiberon can be painted with any outdoor surface rated latex acrylic paint. The surface needs to be clean and properly prepared, and the directions on the can must be followed to the letter. Some brands of paint are self-priming, while others require a primer.
Without question, more than one coat of paint will be required if you opt to paint your composite decking. A light, high-grit sanding – around 220 – might also be required to gently scuff the surface and make it more amenable to paint.
Trex vs Fiberon: Which is Better?
While Fiberon is the new player in town and making a bid to be on the scale of Trex in terms of size and availability, Trex still comes out on top when all factors are considered. Availability, competitive pricing, a more flexible warranty, and a maintenance plan make Trex a slightly better option.
The Fiberon warranty is not transferable, which is a large drawback when buying or selling a home with Fiberon products. It also mandates more regular care – a minimum of twice yearly – or the warranty is voided. Trex does not have a mandate and allows for more serious washing from a power washer than Fiberon boards.
Both have very similar price points and offerings, but Trex has a much wider variety of accessories. This makes coordinating larger backyard makeovers much simpler, as Trex can effectively provide you with options for all parts of your yard and porch – Fiberon only offers boards and railings.
While Trex has a slight edge on Fiberon boards, time will truly tell which composite manufacturer is better and more durable. Both companies are offering a fairly new product. If you opt to stay at your home for a long time, you'll likely be pleased with either Trex or Fiberon.