A while back at my local home reno store there was a tent set up with someone selling deck boards that looked a little different – it was aluminum decking. I'd heard of it a few times but had never seen it and was surprised at how much it resembled other types of deck planks.
Aluminum decking is more expensive than wood and most composite decking but is extremely strong and durable in hot and cold environments. Special coatings keep the surface temperature down, although the surface is not immune to scratches and marring, just like any other type of deck board.
As with any type of material that is left out in the elements every day, you can expect that the material will weather at some point. Aluminum planks market themselves as a more durable alternative to other decking and that weathering will be very limited.
In this article, we'll go over all the pros and cons of aluminum decking, including installation, price, and availability. We'll also compare it to other comparable materials such as wood and composites.
What is Aluminum Decking?
Aluminum decking uses aluminum to craft standard decking-sized pieces for residential and commercial decks and outdoor spaces. They are manufactured in standard plank lengths and widths and are designed to fit on top of regular wood deck framing.
In recent years many aluminum plank makers have begun to manufacture aluminum decking in different colors and styles. Many aluminum decking options include systems for diverting rainwater from the underside to create a dry space beneath.
As one of the newest players in the decking market, aluminum is still fairly uncommon, which means the price is still very high. However, it is metal. And metal usually equals durability. Aluminum is also lightweight and fairly easy to cut, making it accessible to the average DIYer.
Types of Aluminum Decking
There are many different manufacturers of aluminum decking across the country. A quick search online will almost certainly reveal one that is in your general proximity. They each offer one or all three different types of the aluminum deck:
Standard deck planks
Boards that lock together
Modular systems
Aluminum decking boards are sized to resemble wood and composite boards. They come in standard lengths from 12 up to 24' or more. They are usually also between 5 ¼" and 6" wide. They almost always have a textured surface for slip prevention and attach with some hidden fastener and clip system.
Other aluminum boards click or lock together using proprietary designs that are generally similar, much like some metal roofing systems. Again, they are sized similarly to wood/composite planks and fasten with hidden fasteners. The difference is that the channels between boards are closed and channel water away to the edge of the deck.
Finally, a less common aluminum decking type that is often used in commercial spaces is modular aluminum decking. Manufacturers will weld planks together to form a modular panel. This results in a quicker installation, as you are installing what is essentially several decking boards at once.
Aluminum Decking Pros and Cons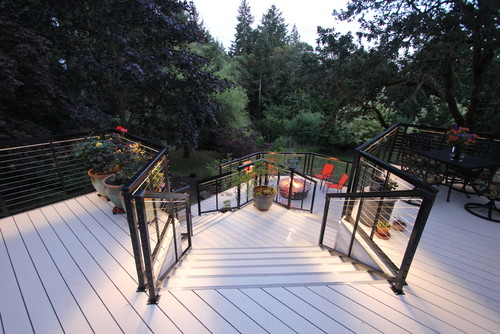 It's easy to get excited about a new product, especially one that bills itself as more durable than composite or wood – with less maintenance. But before we declare aluminum the best decking material out there, we are going to investigate both the pros and cons to decide if aluminum is worth your money.
Pros
The pros of aluminum decking are pretty clear: it's durable and extremely strong. It is also very lightweight and you don't need any special framing beneath it, just standard wood joists. Also, aluminum decking is nearly maintenance-free, which is one of the most attractive features of the product.
Durability
Most aluminum decking comes with some sort of "limited" lifetime guarantee. While the language in warranty agreements can often be somewhat vague – to the benefit of the manufacturer – these agreements still guarantee the color of the product for its lifetime. There is no composite or wood product available that can do that.
Also, unless you've installed the aluminum planks improperly, you can expect this type of decking to last forever. The wood joists beneath are more likely to rot or deteriorate before the aluminum planks.
Finally, the strength of aluminum is unmatched. Building code calls for decks to be rated for 40 pounds per square foot. As a minimum, most builders will overbuild and ensure that number is more like 60 or even 80. Aluminum decking is rated anywhere between 100 to 300 pounds per square foot – on 24" centered joists.
Waterproof
Aluminum planks themselves are waterproof. They have a powdered coated finish, which is more durable than paints, stains, or other coverings. Powder coating is simply a colored aluminum powder mixed with a type of resin – usually epoxy. Then it is baked onto the aluminum. This coating prevents rust and other damage from water.
Some aluminum decking prevents water from getting beneath the deck boards as they can lock together to form channels between boards that divert water to the edges of the deck. This makes dry spaces beneath the deck.
It should also be noted that aluminum decking is often found in areas with lots of moisture – decks of boats, docks, and other areas that get wet frequently. This should give you an idea of the type of water resistance you can expect from aluminum boards.
Extreme Weather Resistance
If you live in a colder climate, rest assured that snow will have no impact on an aluminum deck. Your only concern will be damaging the powder-coated finish if you are shoveling aggressively. Beyond that, extremely cold temperatures will not affect aluminum planks.
On the other spectrum, extreme UV exposure will also not affect aluminum planks to the same extent as composites and wood. While powder-coated finishes will experience some degree of fading, they won't be anywhere near the level of wood and still less than composites.
Surface Temperature
Many people wonder how aluminum decking can exist in hot climates – after all, wouldn't scorching hot sun on metal create a burning hot surface? It turns out that isn't the case. Many tests have shown composites and fancy hardwoods are much hotter in the direct sun than aluminum. How could that be?
You'll hear manufacturers go on about how aluminum "reflects" the heat, which is true only because aluminum decking is often. Aluminum has great thermal conductivity. That means heat travels through it easily. Coupled with a reflective surface, aluminum can dissipate heat quickly.
Contrast that heat dissipation with PVC, and you'll see why aluminum is much cooler. PVC is not a good thermal conductor, which is why it retains heat and is much hotter to walk on than aluminum decking.
Simple Installation
The installation of aluminum decking involves screws and clips, much like installing composite decking. Boards fit over standard deck joists at spacings of anywhere from 12" to 24".
Decking that does not lock together is commonly fastened with glass-filled nylon clips with a hole allowing it to be screwed to the joist. When screwed, the clip holds the aluminum planks to the joists through pressure. One clip will hold a board on either side.
Manufacturers of aluminum decking will also supply their own screws, clips, and trim pieces. Some have stair risers and railings too. This makes installing an aluminum deck no different than installing a composite or wood deck.
Boards also are cut using a standard metal blade for a miter or circular saw. A non-ferrous metal blade (aluminum is non-ferrous, steel is ferrous) will easily cut through aluminum.
Pest Resistant
As you might expect, you won't have to deal with any carpenter bees, ants, or other burrowing insects digging into your aluminum. Insects have even been known to take a liking to composite decking products, but metal is simply inhospitable to bugs.
Low-Maintenance
Possibly the greatest aspect of having an aluminum deck is the fact that you'll have to do very, very little maintenance to it over the course of its life. There won't be any painting, staining, cracking, warping, or shifting due to weather or temperature.
The only thing you'll need to do is clean your deck with soap and water using a gentle brush. And even then, you'll only need to do this when you notice the deck getting dirty. Metal decks should not be painted, and even if you wanted to, you would void any type of warranty.
It should be noted that the cost savings of low maintenance and time savings should be calculated against the initial cost of the deck itself. Stain or paint is expensive, and not having to do that every few years will save you hundreds, if not thousands, of dollars in expenses and time.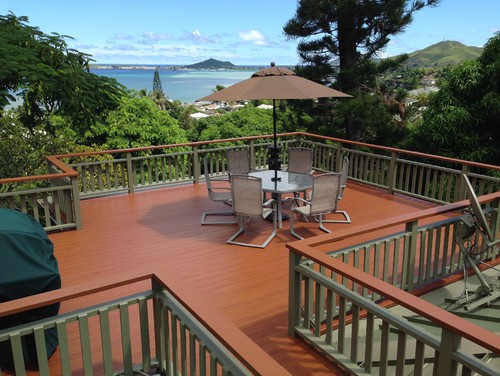 Cons
There are cons to aluminum decking, and the biggest is the cost. There is no way around the fact that aluminum decking will take a bite out of your wallet. As demand for aluminum decking increases, expect prices to drop somewhat, but it will likely always be significantly more than pressure-treated wood.
Cost
The cost of aluminum decking ranges from $5 per linear foot to around $10. So at the cheapest, you are spending $60 – plus tax – on a 12' aluminum deck board. Compare that to around $13 for a 12' pressure-treated wood deck plank, and you can see that you are paying almost five times the amount for aluminum compared to wood.
On the other hand, some composites approach the cost of aluminum. High-end PVC deck boards of the same length are around $50, while composites can be had for as little as $20 for 12'. Even exotic hardwoods such as Ipe average just under the lower cost of aluminum decking.
Lack of Style Choice
Aluminum does not have a huge variety of styles to choose from – yet. As it becomes more commonly used for decking, expect a wider variety of styles to choose from, but as of now, most manufacturers only make lighter colors.
Some aluminum producers make planks with wood grain, although expect to pay upwards of $8 a linear foot for these types of deck boards.
Availability
Another downside to aluminum is simply finding out where you can purchase it. Your local home reno store may or may not carry it. If not, then you are left looking for a local supplier. While it might not be tough to find one, you'll be at the mercy of their prices and the type of decking they have in stock.
Also, while you might find an aluminum decking supplier, there might not be a railing or other accessories that go with the product. Some manufacturers provide railings and stairs, but others do not, so you may be forced to look further afield to find the right aluminum decking for you.
Sound
Yes, the actual "sound" the deck makes when walking on it can sound much like the "ping" a baseball makes with a metal bat or the sound you hear when walking on metal bleachers. Many find this aspect of aluminum decking off-putting and reminiscent of commercial or industrial space.
Some manufacturers have made attempts to dull the sound their product makes by improving the design and increasing the thickness of the outer coatings to dull any sort of metal sound the deck might make when in contact with people or other moving objects.
However, in a hail storm or when moving heavier deck furniture, there won't be any questioning what type of decking you have as the metal sound will become very apparent.
Best Aluminum Decking Brands
While aluminum decking products are still fairly new, there are a few key players who have established a significant presence online and in stores.
Versadeck
One of the bigger suppliers of aluminum decking products, Versadeck offers aluminum posts and joists in addition to decking and railings. They also offer taller and wider aluminum deck planks. While they do offer watertight decking, it doesn't differ from their standard planks – the only difference is that they are installed with watertight connectors with gaskets.
Nexan
A smaller supplier out of the Deep South, Nexan offers a click and lock watertight type of deck plank and a separate, standard deck plank. They differ in how they attach to the joist. Woodgrain is available from Nexan, but only in two varieties. Finally, they do not offer aluminum framing – only deck planks and accessories.
Wahoo Decks
Like Nexan, Wahoo is a smaller, Southern supplier of aluminum decking. Wahoo Decks offers watertight and standard aluminum decking options, like clickable planks that create an unbroken surface or standard aluminum boards they call "Fortis". They also supply structural joists that lock together to make aluminum, watertight membrane beneath.
Aluminum Decking Price
At the time of writing, the standard price for aluminum decking hovers around $5 per linear foot. That translates to roughly around $10 per square foot. You may find quotes for aluminum decking as low as $8 per square foot or around $4.50 a linear foot.
For any type of aluminum decking that is beyond the generic color or style offered, expect to pay much more – somewhere in the neighborhood of $8 per linear foot or $16 per square foot.
Aluminum Decking: Is It Worth the Cost?
If money isn't an issue for you, then aluminum decking is worth the cost. Yes, composites and PVC are more common, but you can't argue with the durability of metal. For instance, you don't have the option of using 24" joist centering with any other type of decking besides aluminum.
Aluminum will save you time over the years as you won't have to paint or stain – just simply hosing down and wiping any grime away. However, composites make the same argument. But aluminum beats composites when it comes to surface heat – aluminum is much cooler to walk on than composites in direct sun.
Spreading out the joists will save you some money on your aluminum costs, and since it can sit on top of wood joists, your only extra outlay is the planks themselves. For smaller decks, the extra cost over composite or PVC will be negligible. And consider the time savings, too. You'll save tons of time over the life of the deck, avoiding the bi-annual staining of wood or painting composites.
When it comes time to build your next deck, be sure to give aluminum a good, hard look. Remember, the upfront cost may seem scary, but it is definitely worth the investment as it will last a lifetime and save you tons of time in the long run.